FINANCE WITH BOYNTON BILLIARDS
Financing with Boynton Billiards makes it even easier to get into game room furniture thats right for you. By pre-qualifying for a Boynton Billiards in store credit line, you can browse our expansive inventory with completely personalized financing terms without impacting your credit score.
WHY FINANCING WHY US?

IT'S FAST
Complete a short paperless, two-minute form and get terms instantly without impacting your credit score.

IT'S REAL
Receive real, competitive rates that are valid for 120 days.

IT'S YOURS
Get financing terms that are completely personalized to you, enabling an informed search for your next Pool Table or accessory.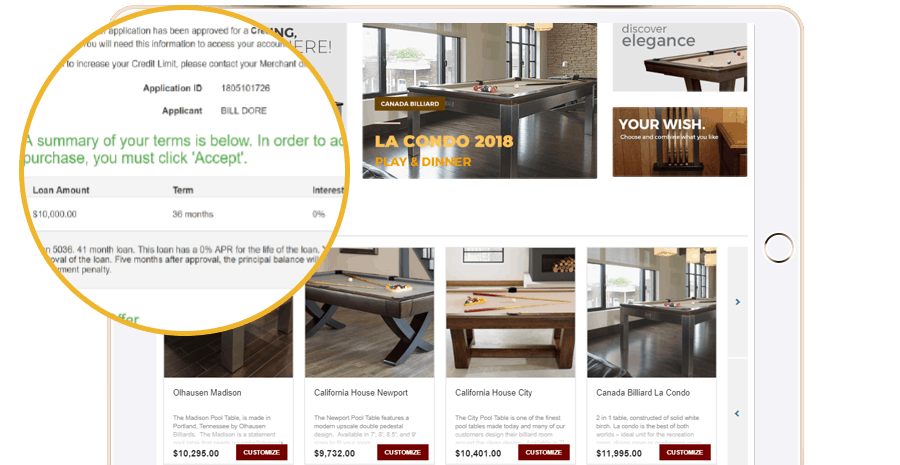 FREQUENTLY ASKED FINANCING QUESTIONS
If you can't find the answer to your question here, don't hesitate to call 1-561.736.7665
What banks does Boynton Billiards work with?
Boynton Billiards accepts financing from Greensky.
If I have bad credit, can I still finance my purchase through Boynton?
Boynton Billiards works with all types of credit! Our minimum requirements to obtain financing are as follows: you are at least 18 years old, make at least $10,000 in yearly income, and have no active bankruptcies.
Are the Boynton Billiards financing terms I see on the site real? Will they change?
When you pre-qualify you'll see real, personalized terms based on the information you provide. As long as the information you provided can be verified as accurate by our Underwriting Team, there should not be any changes to your terms.
How long are my Boynton Billiards Financing terms good for?
Once you pre-qualify for financing on boyntonbilliards.com, you'll receive personalized financing terms, which are valid for 120 days. The only reasons your terms would change during those 120 days would be if you updated your personal information or if our Underwriting Team were unable to verify the information you provided.
How does Boynton Billiards determine financing terms and rates? Are terms negotiable?
Your terms are based on your credit history, income, and the price of the vehicle you're looking at. We offer our best terms up front so you have all the information you need to make an informed decision. Since vehicle price is considered, you will notice that your terms will vary depending on the product you choose.
When is the first monthly payment due?
Once you have completed a purchase, please review your contracts for your exact payment dates.
Does Boynton Billiards offer financing if I choose to purchase elsewhere?
Boynton Billiards Financing can only be used for products sold on our physical stores and/or our websites.
Does getting pre-qualified financing terms from Boynton Billiards impact my credit?
No. When you pre-qualify with Boynton Billiards, you see real, personalized terms without affecting your credit score.